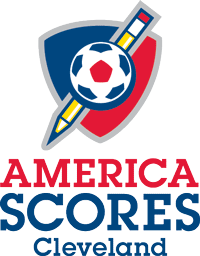 Pure Game is a 2021
AO Impact Grant Recipient
Location: Cleveland, OH USA
Mission Statement: "America SCORES inspires urban youth to lead healthy lives, be engaged students, and have the confidence and character to make a difference in the world."
Project Details: America SCORES Cleveland's (SCORES) innovative programming utilizes a team-based learning approach that takes place in a safe and trusting environment. SCORES will provide 32 weeks of afterschool and summer enrichment programming each year. Our poet-athletes show measurable gains in
fitness, self-confidence, literacy, school attendance, and school engagement. For the past 17 years, SCORES has been working to ensure that Cleveland youth, no matter their socioeconomic background, have access to quality programming. Through our partnership with community organizations and the Cleveland Metropolitan School District (CMSD), for the 2021-22 year, we will provide programming in diverse neighborhoods across the city of Cleveland serving over 1,000 youth ages 6-15 years.
America SCORES Cleveland currently has no lead partner for securing soccer equipment & uniforms. A grant through AO impact would allow us to purchase needed items for our youth, which include uniform parts (jerseys, shorts, socks, and shin guards) and equipment (portable goals, cones, etc.). As our program has grown, it is difficult to keep players outfitted to look and feel like a true soccer player. This is important from an equity perspective to provide a level playing field for our youth. Many foundations do not fund youth sports, however, studies suggest that kids who participate in positive social groups and team
sports are more resilient in facing negative social behaviors in school and throughout their lives. A recent study by Laureus USA found that programs, like SCORES, have a strong impact on fostering critical social and emotional learning skills necessary to succeed in school, careers and life, particularly on young men of
color and youth in under-resourced communities.